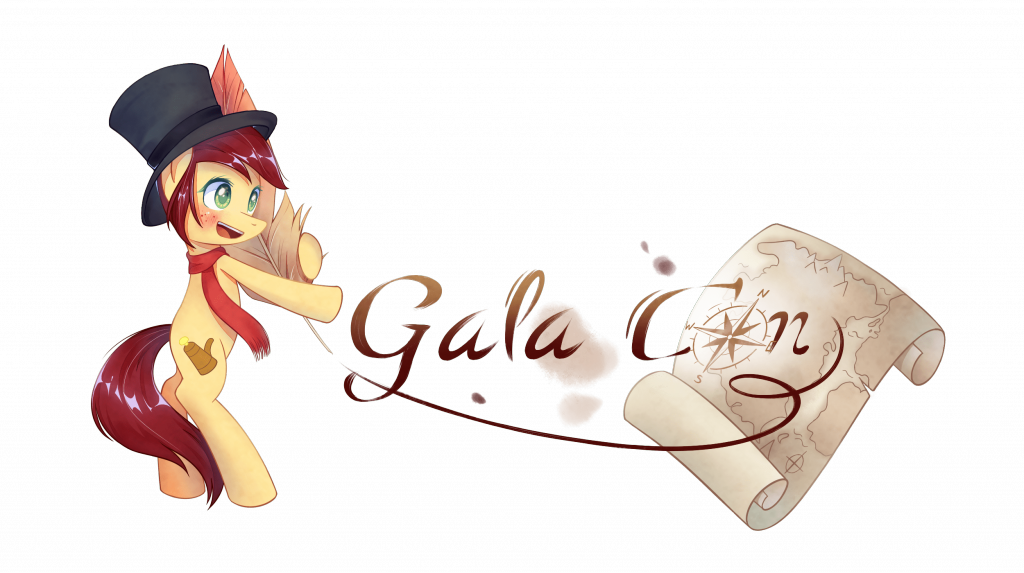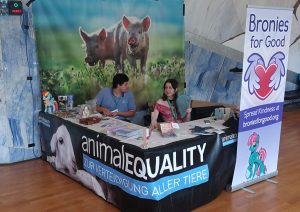 GalaCon 2018 raised a record sum of almost €27,000 for Animal Equality, exceeding even the highly successful year 2016 despite having only one auction.
Our table – run by Velvet Wings, Wilhelm Stahldecker, and me – continued the trend of underperforming the previous year, one possible reason being that fewer and fewer people don't already have our comic book. Our new addition this year – physical copies of our eight music albums and the four contributed ones on a USB drive – didn't entirely compensate the downward trend even though they were highly coveted.
The auction, on the other hand, was a resplendent success. Possible reasons include increased pooling of funds in bidding wars, extra time, and acceptance of electronic payments. Winners still paid about €16,000 in cash but also about €7,000 through credit card, debit card, or PayPal. The PayPal transactions will have incurred additional fees, which I have only estimated below. I'll update the post when I have more precise data.
Statistics
Donations
| | |
| --- | --- |
| Table Saturday | €1,924.50 |
| Table Sunday | €1,996.30 |
| Auction | €23,064.32 |
| Credit card fees | –€184.94 |
| PayPal fees (approx.) | –€60.00 |
| | €26,735.98 |
Top Items at the Table
| | | |
| --- | --- | --- |
| | Count | Total |
| USB drive (all 12 albums) | 33 | €1,485 |
| Bound Together | 32 | €800 |
| "Bit coin" | 406 | €406 |
Top Items in the Auction
| | |
| --- | --- |
| Perry's hat | €5,394.32 |
| Claire Corlett's Sweetie Belle plushie | €1,100.00 |
| Haselwoelfchen's Canni plushie | €1,050.00 |
| Nighty331's Starlight Glimmer sculpture | €1,000.00 |
| The Sweetie Bot Team's Sweetie Bot sculpture | €950.00 |
GalaCon and Bronies for Good History
| | 2018 | 2017 | 2016 | 2015 | 2014 | 2013 | 2012 |
| --- | --- | --- | --- | --- | --- | --- | --- |
| Attendance | 1,200 | 1,300 | 1,300 | 1,300 | 1,200 | 1,000 | 400 |
| Top bid | €5,394 (hat) | €1,500 (hats) | €2,000 | €2,500 (banner) | €1,720 (banner) | €1,100 (banner) | €1,650 (figurine) |
| Auctions | €23,064 | €11,500 | €18,395 | €13,470 | €9,455 | €11,632 | €7,545 |
| Table | €3,921 | €4,124 | €4,624 | €6,556 | €2,923 | €2,694 | €274 |