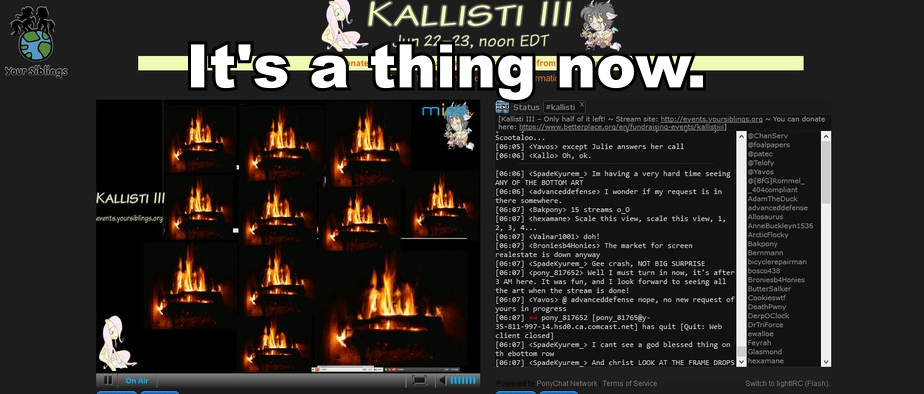 What a lovely and beautiful, campfire-laden Kallisti that was.
And like all great online campfire parties, we have the presence of wonderful folks like you to thank for the success of latest 24-hour round of funtastic shenanigans, sleep deprivation, show staff interviews, and callous art production for Kallisti III. Overall, we managed to raise a toasty $2,452 in donations for GalaCon and the German Branch of Engineers Without Borders! Although we did not beat out the total of the second Kallisti livestream telethon (still standing at $7,017), we did end up beating out the $2000 total from the original Kallisti.
As always, a massive thanks to our guests, contributing artists, moderators, hosts, and dedicated livestream crew for operating the stream and keeping us all warm! We also owe very special thanks to every last donor and participant who helped make Kallisti III a success! Regardless of whether you gave $1 or $1000, you gave us the privilege and honor of making Kallisti the event we've all come to cherish.
And be sure to keep an eye out for Kallisti IV as we all take advantage of the sweltering, relaxation-filled summertime!
Side Notes
If you missed any of the interviews that took place during Kallisti III, fear not! Celestia Radio has you covered with high-quality recordings of the interviews on their YouTube channel.
And lastly, our fundraising page is still open for the Kallisti III event if you'd like to support the efforts of everyone involved.
Now Have Some Art!