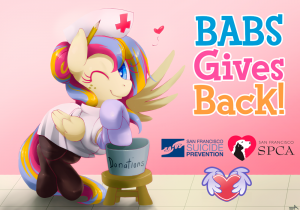 Charity in the Bay with BABSCon
That's right folks! We'll be working with the intrepid folks from Bay Area Brony Spectacular on a fantastic selection of charitable programming this April! This includes a charity auction benefiting the San Francisco Society for the Prevention of Cruelty to Animals and SF Suicide, the hosting of a mobile adoption center with Peninsula Humane, and more! You can also visit us at our fan table, where you'll be able to donate to the ongoing Seeds of Kindness 3 initiative and our newest charitable beneficiary, Community Grows!
Community Grows is San Francisco based nonprofit dedicated to the cultivation of healthy youth through the growing of gardens in low-income, diverse communities. These gardens and parks are situated in SF's urban center, where staff work with at-risk youth to provide food, environmental education, and skills training free of charge to kids aged five to nineteen.
You have plenty of options to support these amazing organizations and their worthwhile efforts. You can stop by our table to place a donation, adopt a pet at the Mobile Adoption Center on Friday 1–4 p.m., participate in the charity auction, and more! Or, if you're short on funds, you can support us directly by volunteering with us during BABSCon! In return for your time, you'll receive a discounted price on your admission, acquire some sweet BfG swag, and enjoy an enriching experience working with our staff.
Be sure to check out our volunteer page to apply!
If you have yet to check 'em out, head on over to www.babscon.com to preregister while you still can! Till then, stay fluffy, everyone!
Volunteering with Another Hope
Throughout 2012 and 2013, Seeds of Kindness funded an orphanage building and a support project for the NGO Another Hope. Since then, the children have moved into their new home and the support project, a guest house, is about to be finished as well.
What Another Hope is looking for now are more volunteers who would like to help at the site of the orphanage in one of the following ways.
They are looking for people with experience in providing basic childcare, for example, making sure that the children bathe, brush their teeth, and wear clean clothes. They could also use support in the area of sports and other recreation for the children.
Furthermore, they need support for construction work, for example, for a the perimeter wall, permanent offices, and the vocational school that they are planning to start.
They also need volunteers who can provide training, assessments, and assistance in the area of basic health care, be it only simple tasks as putting bandages on scraped knees or giving classes on avoiding dehydration. Qualified physicians are particularly needed for community health outreach programs.
In addition, monetary donations directly to Another Hope and experience in fundraising are of course also always welcome.
More details as well as contact data can be found in their freshly updated volunteer manual and on their website. If you are interested in volunteering for the orphanage, please get in touch with Another Hope directly.