GalaCon 2019 again raised the enormous amount of over €24,000 for Animal Equality!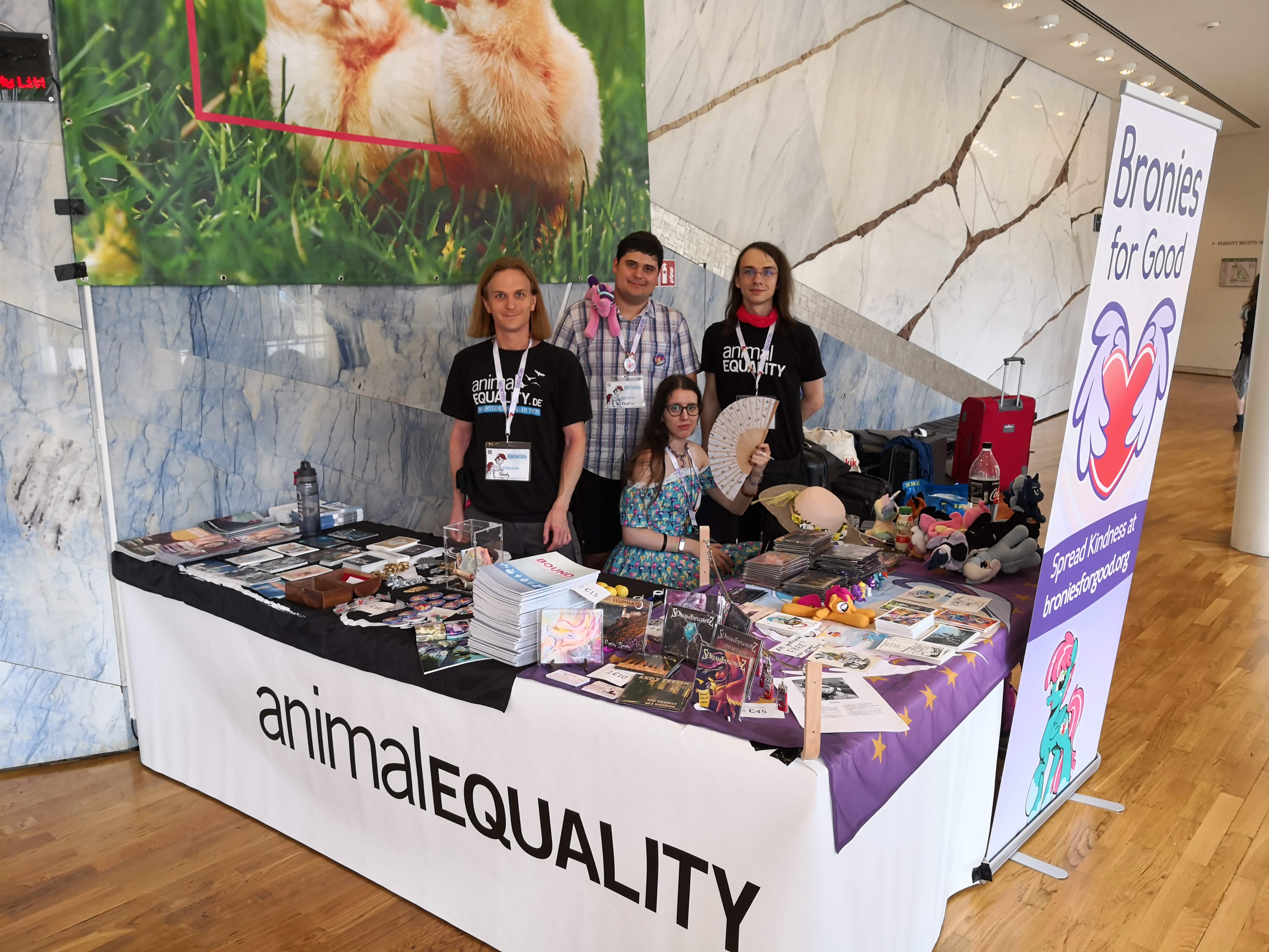 This time, our table was run by Wilhelm Stahldecker, Renha, and me, with help from Velvet Wings, Soul Strings, and Andy Feelin'. It was highly successful at €3,451 raised, though again the amount was slightly lower than in the previous year.
The auction, on the other hand, was another great success. It raised almost €21,000, only about €2,000 short of the record of 2018. Thank you to everyone on the GalaCon team and to Perry for making this possible!
Statistics
Donations
I counted only the bills during the gala on Saturday, so we actually raised a bit more on Saturday. Conversely, I've inferred the total for Sunday from the grand total and the count from Saturday, so we actually raised slightly less on Sunday.
| | |
| --- | --- |
| Table Saturday | > €1,765.00 |
| Table Sunday | < €2,015.44 |
| Auction | €20,804.65 |
|   | €24,735.99 |
Deductions
Musicians provided us with some of the albums on CDs and donated 20% of the returns. Hence the deduction labeled "profit share."
| | |
| --- | --- |
| Profit share | –€328.00 |
| Credit card fees | –€104.97 |
| PayPal fees (table) | –€1.94 |
| PayPal fees (auction) | –€77.78 |
|   | €26,735.98 |
Top Items at the Table
| | | |
| --- | --- | --- |
|   | Count | Total |
| Bound Together | 54 | €810 |
| "Bit coin" | 520 | €520 |
| All albums USB drive | 7 | €315 |
Top Items in the Auction
| | |
| --- | --- |
| Perry's hat | €5,424.65 |
| Wall hanging and ukulele | €1,650.00 |
| Plushie | €1,500.00 |
| Book box | €1,000.00 |
| Plushie | €900.00 |
GalaCon Charity History
| | | | | |
| --- | --- | --- | --- | --- |
| | Attendance | Top bid | Auctions | Table |
| 2019 | 1,200 | €5,425 (hat) | €20,805 | €3,451 |
| 2018 | 1,200 | €5,394 (hat) | €23,064 | €3,921 |
| 2017 | 1,300 | €1,500 (hats) | €11,500 | €4,124 |
| 2016 | 1,300 | €2,000 | €18,395 | €4,624 |
| 2015 | 1,300 | €2,500 (banner) | €13,470 | €6,556 |
| 2014 | 1,200 | €1,720 (banner) | €9,455 | €2,923 |
| 2013 | 1,000 | €1,100 (banner) | €11,632 | €2,694 |
| 2012 | 400 | €1,650 (figurine) | €7,545 | €274 |