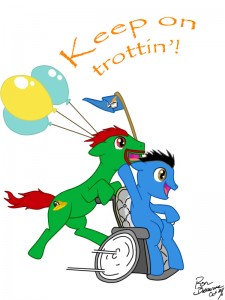 Ali has worked closely with the Muscular Dystrophy Association for a long time. In the upcoming months he hopes to raise money for this great organization by attending the MDA Muscle walk which takes place in the Dallas/Fort Worth area and which will start on February the 11th. The MDA uses the funds for research, equipment for those who suffer from Muscular Dystrophy and to sponsor a summer camp dedicated to children with MD.
If you would like to show Ali your support you can do this in a few ways, you can either attend a muscle walk in your area. You can join Ali in the Muscle walk he is participating in and walk with him on the 11th. Or you can donate directly to Ali and make him the Top Walker of the event!
If you want any further information about the association hit up their page.
So show your support for this great brony and don't hesitate to help out! We wish you the best Ali and we hope your fundraiser goes really well.
Thanks to ronvarone for the amazing picture.